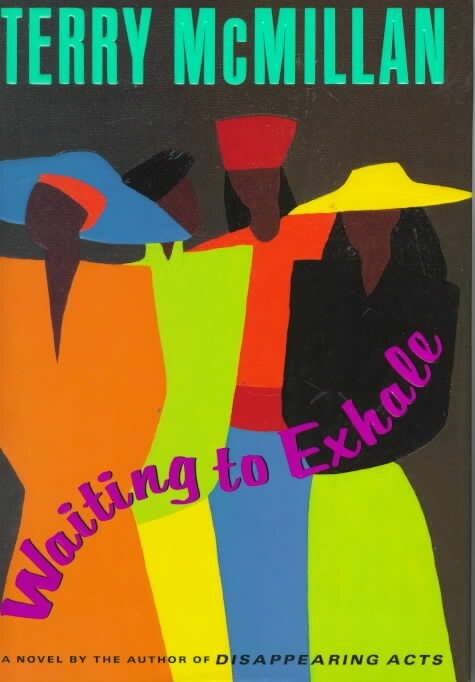 I remember buying
Waiting to Exhale
. It was hardcover (first edition, hot off the presses), and I wasn't working so it was a splurge. It was shortly after my mother passed away and I was grieving hard. I needed a distraction. I went to the Aurora Mall and wandered the halls before it hit me that what I wanted was a novel. I hadn't read a novel in years. At the time, I was reading a lot of self-help and nonfiction stuff trying to get my act together. But after my mother died I wanted a big juicy read, something to get lost in. I went into Waldenbooks and plopped down on the floor in the fiction section and started browsing. I hadn't heard of
Waiting to Exhale
or
Terry McMillan
before then. The title intrigued me. I opened it and the narrator lived in Denver. I lived in Denver! She worked in PR. I worked in PR! I bought it. I took it home and sank into it like a warm bath. I probably didn't exhale once that whole year after my mother's death, but this was one of the books that made me think that one day in the future I would.
I remember later when the movie came out. I was with my stepmother and my Latina sister-in-law in Killen, TX and we were so excited as we got in the line. All of us, white, black, Latina, in groups of friends and relatives, were eager to see a movie about grown women and grown woman stuff.
I never would have guessed back then that I too would be a novelist. I never would have guessed the book I bought (and then, of course, went back and bought
Mama, Disappearing Acts, How Stella Got Her Groove Back, and all the rest
) was opening a career door for me and dozens (hundreds?) like me.
Today the sequel is out. And reading it is like visiting with old friends you haven't seen in a long time. And just like real life old friends, these women made me laugh, made me sad, made me frustrated (I'm talking to you Savannah!) and, yes, made me happy. I'm curious to see how
Getting to Happy
will do in the current book-selling environment. I'm hoping the audience that Terry helped create will show up big for this one. I'm hoping that all those women who stood in line to see the movie version of
Waiting to Exhale
will show up in bookstores for this visit with some old friends. (You can follow Terry on
Facebook
and
Twitter
too.)
Anyone else care to share their experience of the
Waiting to Exhale
phenomenon? You buying
Getting to Happy
? You are, right? Right?