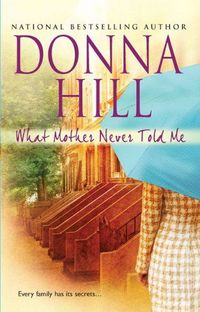 Donna Hill
is author of dozens of romance novels and women's fiction. She offers this list of what she's grateful for this holiday, and to thank her loyal readers, she's offering a signed copy of
What Mother Never Told Me
. Leave Donna a comment and I'll choose a winner using a random generator. You have until Dec. 19 to get in on this and books from Tina McElroy Ansa, Keith Andrew Perry, Tara Betts, Heidi Durrow, Cheri Paris Edwards, Denene Millner...and more to come!
Below is from Donna:
As the year draws to a close, it is certainly a time for reflection. So much has transpired this year. My son went off to college and he will never know how truly proud of him I am. I embarked upon a new educational journey (very late in life) and the rewards are "priceless." Being among so many creative minds is no less than awesome and it infused me with purpose. It reinforced the blessing that was bestowed on me—the ability to write and to transport not only myself but others into a world that I created. But it also reminded me of my responsibility as a griot—the teller of tales—to not only entertain but to inform. So even as I write my romances my goal is not always to titillate but to remind us about the power of love no matter what color it is. When I write my more serious novels, I want to bring to the forefront the issues that are of importance and that will leave the reader thinking and evaluating and perhaps looking at life differently.
There is power in the written word and as writers we must be mindful of that power. We have a responsibility to give our best, not for the money but for the art—as our work will stand as a testament long after we are gone.
I am grateful for the two decades that I have been allowed to do what I love. And in this season of giving, I give thanks to all of the readers who have been there and supported this girl from Brooklyn!
I am also grateful for the wonderful books I have read this year and thank the authors who shared their gift with me and the world. If I start naming folks I know I will leave someone out!
I am also grateful for the friendship and support from my sister and brother writers who share their trials and triumphs and remind me why we do what we do when it gets really hard.
I am thankful for my family that keeps me grounded, and remain my biggest cheering squad. And most of all I am thankful to God for giving me this wonderful gift of words!